Artists You Should Know: Alpha Rev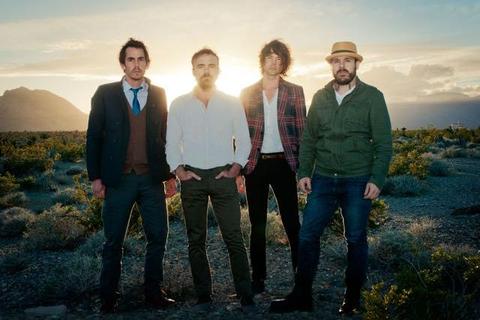 SXSW veterans Alpha Rev are no strangers to hectic festival schedules and fluctuation in venue crowds, but from the moment singer Casey McPherson starts singing concert goers can't help but be captivated by the group's contagious ballads. With an authentic sound and positive message, the Texas natives are a perfect example of music role models.
Q: Why the band name Alpha Rev?
AR: Well you need a name that has to sound good together. We went through prefixes and meanings then went through saying it out loud. The name derives from the Greek word rev which means to revolt, revolve, reveal.
Q: You guys are from Austin, Texas. What's the music scene like there?
AR: Austin music was about bands helping out other bands. Now things have changed; there are a lot more styles, you've got anything from Dance to Hip Hop. With Austin venues there is a smaller market, there aren't as many venues as SXSW you can go to specific places and see specific kind of music but there are only 3-4 places.
Q: What's the story behind the song Sing Loud?
AR: It's about the struggle of relationships and how they are about sacrifice and if they are going to last. Verse is about the struggle and chorus is about letting go.
Q: What's one lesson you've learned so far as an artist?
AR: Don't make creative compromises for business people. You should do what you do best and the way you want to do it.
Q: What was your writing process for your latest album, Bloom?
AR: We tried different ways and wrote different songs in places like Lexington which was written in a studio and is 5/4 in time as opposed to 4/4 time. It was the best story song.
Q: What's one motto or belief you guys follow?
AR: I've[Casey] had mental health issues in my family's history so it's definitely something we've advocated and stood behind. I think I just want fans to know that the struggle is okay: Things do get better. When we're in pain we feel like there is no hope, but we just want them to know that you're not alone and everything will be alright.
For more information and music by Alpha Rev check out: www.http://alpharev.com/